February 2018
ALBA hosts 2 staff from EMRC on Safety issues
Moh'd Refifan Saleem Amro and Ali kamel Hmoud Adayleh from the Energy and Minerals Regulatory Commission in Jordan (EMRC)  were hosted at ALBA from 19 to 27 February  under the supervision of  Miguel A.G Aranda  Scientific Director and Maria J. Garciat-Fusté Head of the Radiation Protection service.
They were trained on general radiological safety aspects, and could have a general vision on safety management plan/task and duties.
During their stay in SPAIN, they also had a meeting with staff from the Consejo de Seguridad Nuclear in Madrid and could discuss with them how the authorization process could be put in place at ALBA.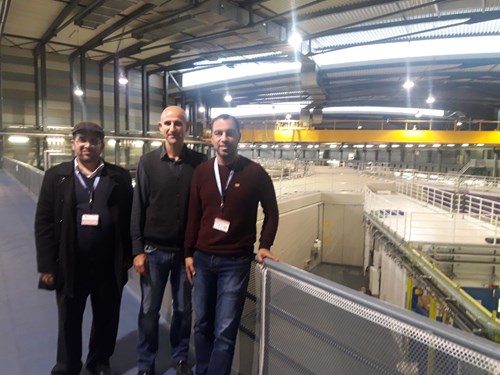 Moh'd Refifan Saleem Amro (left) and Ali kamel Hmoud Adayleh (right) with Miguel A.G. Aranda (center).