May 2017
First Exchange completed: Iranian Student at CERN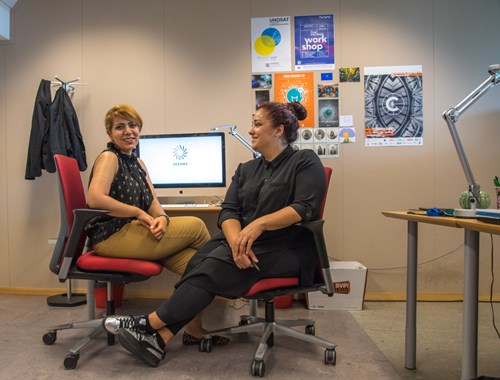 Marjan Hendizadeh (left), an Iranian student visited the CERN Graphic Design Team working with Esma Mobs (right), Graphic Designer in the Design and Visual Identity Service.
Marjan was with Esma for 4 months, from February to May, doing a fantastic job in completing a full graphic chart and templates for the SESAME light source.
"To work on SESAME branding and graphic design project was an interesting and valuable experience for me. To start from scratch and see, after four months of hard working, that you have created a visual identity for such an honourable project is one of the greatest feelings I've ever had.
I'm originally from Middle East therefore I feel really attached to SESAME, as it's a progressive step in the region's scientific future,a region with a huge science potential but facing different difficulties which make scientists and elites to emigrate.
SESAME is at the beginning of its way and I am sure it will bring a brighter future for Middle East. I cannot wait to see the whole graphic chart used to reinforce its identity and I'm so glad to be a part of this project"