2019-10-26
HERCULES@Sesame: two weeks training school (26 Oct-7 Nov 2019)
An HERCULES school (Higher European Research Course for Users of Large Experimental Systems) will be organised in SESAME (Amman, Jordan) to train young researchers to exploit synchrotron radiation with a wide range of applications and experimental techniques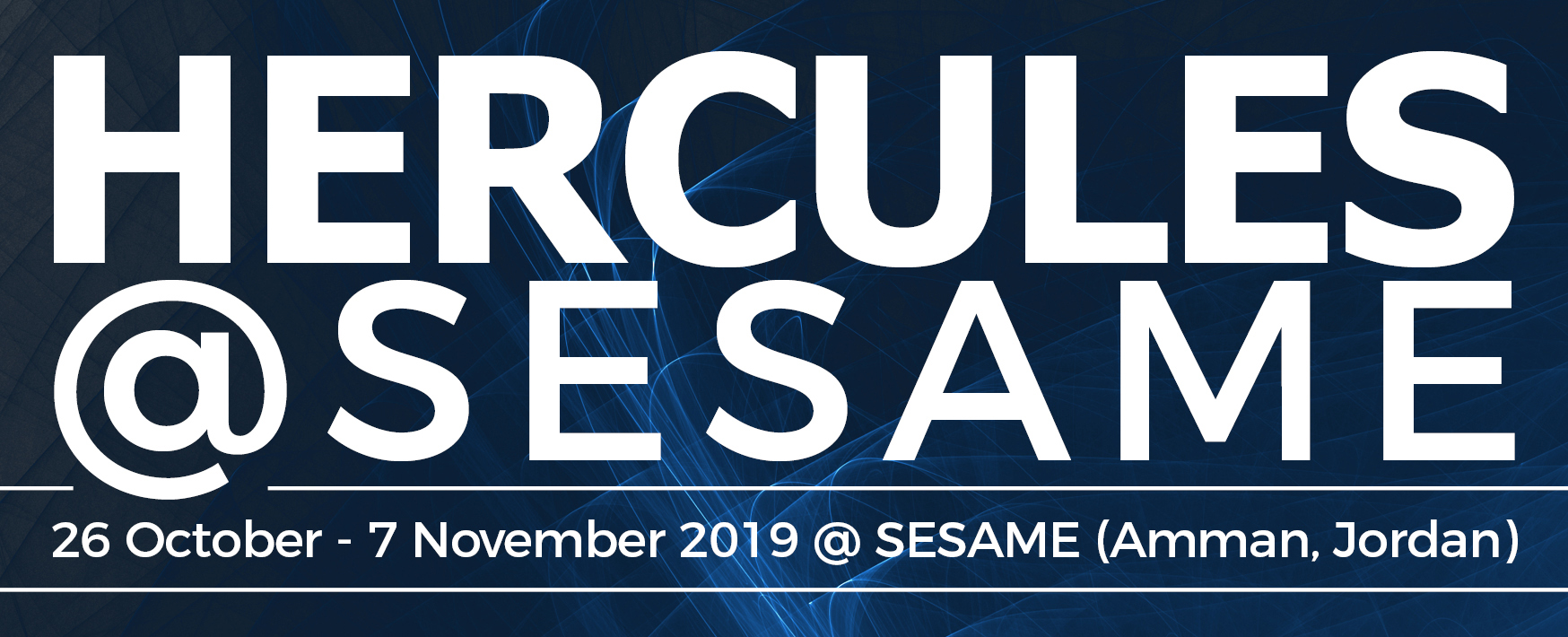 An HERCULES school (Higher European Research Course for Users of Large Experimental Systems)  will be organised in SESAME (Amman, Jordan) from 26 October to 7 November 2019.
The two-weeks school will train young researchers on the broad basics, techniques of synchrotron radiation and applications in the fields of Material Science, Cultural Heritage, Physics, Chemistry, Biology and Biomedicine, Structural Biology and Environment.
The school, following the principles of the Hercules school, will include:
Lectures from internationally recognised experts. See the list and preliminary programme below
tutorials and practicals in small groups, including on SESAME beamlines
 The entire school will be taught in English.
The following experimental techniques will be covered:
X-ray Absorption spectroscopy
Infrared spectroscopy
Soft X-ray spectroscopy
Powder and single crystal diffraction
Macromolecular crystallography
Small-angle X-ray scattering
X-ray imaging & tomography
Who can apply ?
PhD students
Post-doctoral fellows
Young researchers (with a PhD)
Working in Middle East and neighbouring countries, including all SESAME members
The school welcomes applications regardless of ethnic origin, religion, citizenship, political or other opinion, sex, gender identity, sexual orientation, or disability

For participants coming from SESAME members

: funding from the Open Sesame European project will cover travel to SESAME as well as on-site living expenses
Participants will be selected based on the merits and scientific quality of their application (including CV, motivation and recommendation letters)
Important dates
Application is now opened: deadline for application 20 June 2019
Confirmation of selection to participants: July 2019
26 October 2019: beginning of the school
Application
Application is now open !
Sponsors & Supporting Institutions
The school is entirely funded by the OPEN-SESAME European project.
Organising & scientific advisory committee 
Vincent FAVRE-NICOLIN (ESRF & Univ. Grenoble Alpes) - School director

Mahmoud Abdellatief (SESAME)

Miguel ARANDA (Univ. Malaga)
Isabelle COMBE (ESRF)
Greta FACILE (SESAME)
Gihan Kamel (SESAME)
Michael KRISCH (ESRF)
Messaoud Harfouche (SESAME)
Edward MITCHELL (ESRF)
Giorgio PAOLUCCI (SESAME)
Kimberley ROBERT (ESRF)
Preliminary programme
Lectures will be given on the following topics (speakers to be confirmed):
Scattering & X-ray/matter interaction
Introduction to synchrotron radiation
Microscopy (scanning)
Full-field imaging
Introduction to spectroscopy
X-ray absortion & EXAFS
Intro to neutron scattering & spectroscopy
Single crystal diffraction
Powder diffraction
Soft X-ray spectroscopy
Infrared spectroscopy
MX: data collection, structure solution and refinement
MX: large structure determination
Coherent X-ray imaging
Soft condensed matter imaging
Industrial applications
Small Angle X-ray Scattering
Material Science, metallurgy ?
Introduction to SESAME & Presentation of SESAME beamlines
Nano-structures
Grazing incidence techniques
Applications to environmental science
Applications to cultural heritage
The full programme (click for pdf version):