February 2018
Radio Frequency technician from SESAME spends 4 weeks at SOLEIL
Alaa Kurdi is the Radio Frequency Technician at SESAME in Jordan.
He spent four full weeks (from 15 January to 16 February) with the Radiofrequency group of SOLEIL as a training period in the context of the OPEN SESAME project.
Alaa had the opportunity to receive training about the following yopics:  
upgrade of 2.5kw combiners
upgrade of 50kW SOLEIL towers
installation of thomX RF system (LLRF, SSA, cooling rack, cavity)
installation of second RF plan in the Booster
Waveguide connection between the 2 magic switches
new version of the Booster LLRF
SOLEIL was able to take advantage of Allaa's RF experience for adjustment of more than 60 modules and assembly of combiners. This will allow him to install a ne 50kW amplifier in the beginning of March 2018 and should allow SESAME to manage the maintenance of the Solid State Amplifiers (SSA).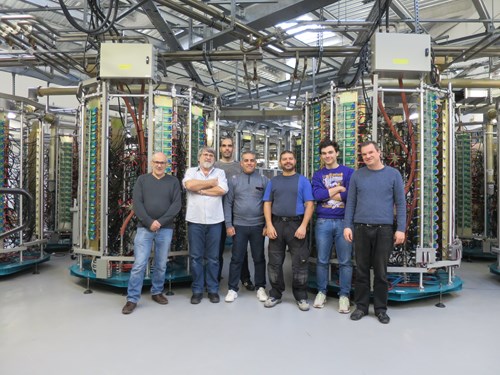 On the picture from left to right:
Fernand RIBEIRO, Patrick MARCHAND, Robert LOPES, Alaa, Helder DIAS, Cl2ment BENZAKEN  & Cyril MONNOT